Reach a Larger Market at Half the Price.
Rentalz.net can help you with several reductions: the cost and time of advertising, the time it takes to meet a potential tenant to describe property features, and the cost of long-term property vacancies.
As a property manager or owner, you know that vacancies cost you time and money. The longer your property sits vacant, the more money you lose in lost rent, mortgage payment, utility and maintenance payments, advertising, and dozens of other costs.
Consider this typical 30-day vacancy:

| | |
| --- | --- |
| Lost rent or mortgage payment | $900 |
| Utilities | $70 |
| Miscellaneous expenses (yard, etc.) | $50 |
| Advertising in your local paper | $100-$600 |
This typical vacancy could cost you up to $60 per day—that's nearly $1800 per month! Just imagine how painful a 60 or 90 day vacancy can get.
Rentalz.net will drastically reduce your vacancy time. We do this by attracting the largest number of targeted tenant traffic in Idaho for single family homes and houses.
With a Rentalz.net listing, many of our customers have saved more than 50% in advertising costs and significantly reduced their vacancy rate.
Vacancies also cost time. Rentalz.net will save you hours of time between vacancies that you can use to be more efficient at work, or just to spend time with your family and friends.
Let's talk about the rising cost of ineffective advertising. Are you paying hundreds of dollars a month for classified advertising like this: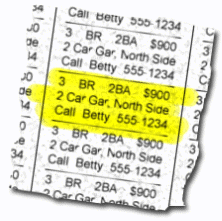 What does this tell your potential tenant? Not enough. A classified ad in the local paper will provide you with limited options, leaving tenants searching for more information—which should be readily available.
The 3-line limited description of your property leaves too much to chance and not enough in your control. Why run this limited ad for 1 or 2 days when you can get better results with a 30-Day Rentalz.net listing? You control how well your property listings perform and you decide what features to best promote your properties. With Rentalz.net, you are in control.
For a fraction of the cost of classified advertising and targeted, better, and more targeted results, the Rentalz.net gives you what you need to fill your vacancies. In as little as 5 minutes and without leaving your home or office, your property can be available for millions of active tenants searching online to view.
Isn't it worth about 5 minutes to place your listing on Rentalz.ent to save hours of personal or business time?